Introduction to the online-tools eCampus, StudIP and FlexNow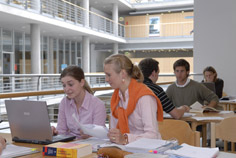 eCampus
Via the eCampus of Georg-August University Göttingen you log in just once and have access to all services described below.The starting page of this portal can be individually adapted to your needs and offers useful information about all aspects of studying.
Self-service function
Use the bottom "Weitere Dienste" on eCampus to find the self-Service functions (SB-Funktion). Here you can change your contact data (adress, phone number), generate study reports (e.g. certificate of enrolment, certificate of periods of University education, certificate of BAföG) or choose a new password for eCampus. Besides you can deposit a SEPA-Mandat on your account, so that you are able to report back (re-enroll) for the next Semester conveniently with just a few clicks. Periods of re-enrolment are 1. December -31. Januarry for the next summer Semester and 1. June – 31. July for the next winter Semester. At the end of your studies you can also exmatriculate here.
UniVZ (University schedules)
UniVZ can be found among the "Links" menu. On this site you can search for lectures, people and rooms and find out, if a course is taught online or requires personal attendance.
eCampusmail
All students of Georg-August University Göttingen are granted a free Internet connection together with an E-mail address. The normal composition of the E-mail address is: firstname.surname@stud.uni-goettingen.de. The first part of the address is your user ID and user name for Internet log-in at the University, eCampus and all services linked to it. You personal password is valid for everything.
If you have questions about forwarding your e-mails or installing the Wifi you will be supported by StudIT. Get to know the offers of StudIT in this Video: Video StudIT
StudIP
This is the central platform for organising and overseeing courses of Göttingen University. Many lectures and seminars have their own Website in one of these learning management systems. On this platform you can download and exchange educational material or discuss topics online. The registration for certain courses is also done on StudIP. (The faculty of medicine has ist own integrated platform for students (go@med), where teaching material,  results exams and  Evaluations, and a report on the current level of Performance. You can reach this platform via eCampus as well.)
FlexNow
Booking and cancelling of examinations: book or cancel examinations online. You will receive a confirmation mail to your E-mail account as receipt.Attention: registration is (normally) possible until 7 days before the date of a written examination. The cancellation deadline is 24 hours prior to the date of the written examination. Performance overview: view details of your performance so far. Compile your own performance overview in PDF format. As soon as a result can be viewed, you will automatically receive a notification addressed to your E-mail account. Please note: if desired, you can ask to be notified of your grade in the E-mail sent to you automatically. To activate this function, click on "Settings" in the performance overview after login.Statistics: contains many different options for viewing detailed information about your personal performance status, such as your own ranking within the degree programme or the average grades of written examinations.
Other services and links

Besides these main functions you can rent study rooms in the Lern- und Studiengebäude (LSG), apply for the scholarship "Deutschlandstipendium" and much more via eCampus. Just have a look on eCampus after you have picked up your Student ID.